Eton's English Corner introduces "Cambridge One"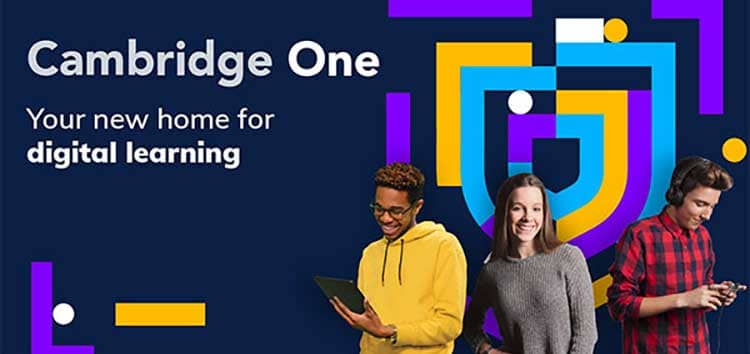 A few weeks ago, Cambridge University Press launched Cambridge One, a digital intuitive platform for learners and teachers of the English language, which is complimentary to the numerious pedadogic materials which Eton is capable of supplying from Cambridge.
What is Cambridge One?
It is a new easy-to-use and flexible learning environment designed for English language learners and teachers. It offers intuitive, mobile-friendly (adaptable on tablets and mobile phones) navigation and clear data views.
Gradually, Cambridge One will house all ELT's digital experiences offered to learners, teachers, schools and parents, globally.
What's special about it?
All in one place :

Easy access to all teaching and learning materials in one place across multiple devices.

Age appropriate :

Engaging design for children, teens and adult learners ensures that students feel motivated and challenged at the right level.

Data you can trust :

Meaningful, relevant and actionable data with elements of gamification to guide teachers and keep learners motivated.
Their new digital offering supports and enables the Better Learning experience, a simple approach where insights gained from research help shape content that drives results. Cambridge One is a vehicle for delivering that promise in the digital world through experiences such as Practice Extra, Presentation Plus or Test Generator.
Learning with a digital device is very different to learning from a book. That's why the content was written specifically for online use, enabling learners to flexibly learn on the go, dip in and out of the content and maximise the time they've got to achieve their learning objectives.
Progressing through the learning experience is easy and effortless. Users get a clear view of outcomes evidenced through visual presentations of data. Learners are engaged and enthused while teachers feel supported and motivated.
Benefits and features for the learner / student :
Single sign-on :

Leaners set up their account once and they can use the same details to access Cambridge Dictionary and the CLMS.

Responsive design :

Learners can access their content from a device of their choice including mobile, tablet or desktop, enabling them to learn in class, at home or on the go.

Gamification :

Primary and Secondary learners collect bronze, silver and gold medals as rewards for their learning, encouraging them to keep improving their skills.

Notifications :

Learners receive notifications on Cambridge One reminding them to complete assignments and check teacher's feedback.
Features and advantages for the teacher :
Responsive design :

Teachers can prepare lessons and manage classes on the go or at home from the comfort of their sofa. All content works across mobile, tablet and desktop devices.

Assignments and marking in one place :

Teachers can create and review assignments, mark students' work and give written feedback in a matter of minutes. All the students' work is listed in the order of submission and teachers can save their changes as a draft before sending it to the student.

Meaningful performance data :

Teachers can access the following student data to help them accurately assess performance :

Average Score - score (out of 100) for all the activities a learner has completed in the course. The best score is taken from each activity.
Activities completed - the number activities completed by the student out of the total number of activities in the course.
Total time spent - the total amount of time that the learner has been actively engaged in Cambridge One activities.
And lots more

Teachers can also see how many times a student has attempted an activity along with their first and best score.

Sorting and filtering :

Teachers can also drill and slice the data by course and unit.
Teachers can sort the list of students in the class in the ascending or descending.

Exportable reports - Progress data can be downloaded for the class.
Features for the school or administrator :
Inviting students to multiple classes :

Administrators can invite students to different classes in one go from the administrator dashboard. This can be done either one by one of by uploading a file.

Creating multiple classes :

Administrators can create multiple classes at once from their dashboard. This can be done by inputting individual classes of uploading a file.
Something to take note of that since this is an extremely recent product, new features are added and the existing ones enhanced over time, in line with our agile principles.
 

Some Resources Available
There are a series of videos dedicated to each end user :